About Our Sundays
At the moment Bathurst services are held online on Zoom and in the Chapel at Trinity St. Paul (hybrid services). Our services reflect the values of social justice and respect for people's rights, especially the rights of equity-deserving groups. A group of services are planned around a theme, which the Worship Committee identifies. After the service we have a check-in/discussion when we go around the circle and invite people to express their impression of the service, or share news in their lives.
If you are interested in Bathurst, you may want to consider attending at least one of our services to be eligible to be added to our friends' mailing list.
Anything can happen at a Bathurst service. This is certainly true! But our Sunday mornings also offer traditional experiences for regular worshippers and visitors.
Sunday Services Zoom Link
If you would like to join any of our Sunday services from 10:30AM until 11:45AM, make sure to click and/or save the Zoom link below:
Posts and Announcements
Find our weekly Monday, Wednesday, and Friday Posts on Instagram. They include our upcoming Service Announcement, recaps to our past Sunday Services, and "Did You Know?" Posts of interesting facts.
sunday services
Bathurst Services Clustered in Themes
The Worship Committee meets to plan the services. Bathurst does not follow the lectionary, rather, a theme is chosen for a cluster of services.  Members of the congregation or an outside speaker are then invited to provide a reflection on a topic related to the theme. Songs, prayers, and readings are then selected to reflect the topic of the service.
June Solstice Service
Sunday Service at Bathurst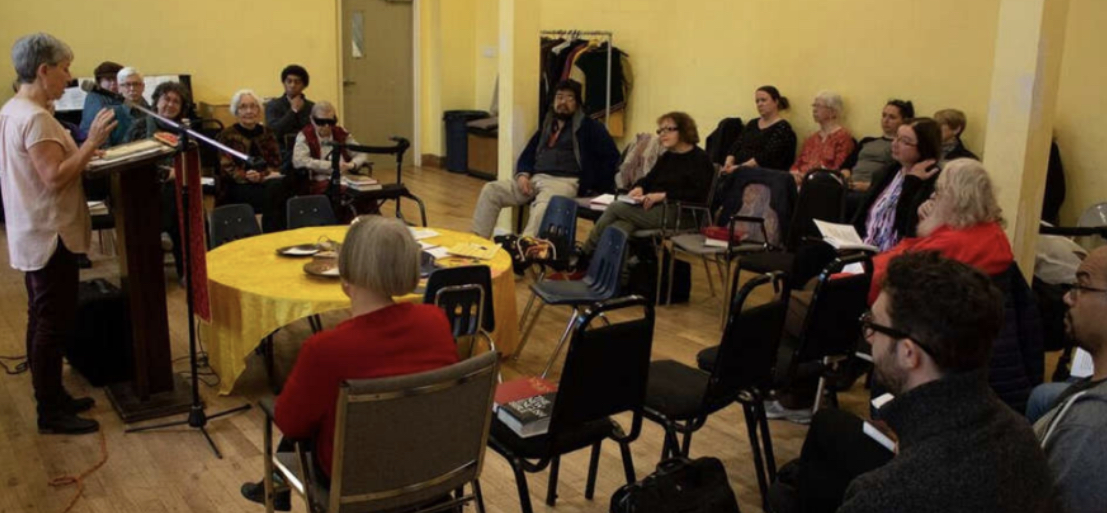 Another Sunday Service at Bathurst
Refreshments after our Sunday Service
The Reflection
Many different people give the Sunday reflection. They can be talks, presentations, videos, or guided small group discussions.
Children in the Service
Table Talk is a focal point of every service. The children–and some adults–sit at a low-rise round table in the middle of the chapel. Someone reads, or tells, a story. They show pictures and sometimes use action figures to bring the story to life. The children can remain at the table and work on crafts, with guidance from the young-at-heart. Older children sometimes help with Holy Communion or offer prayers.
Communion
We usually celebrate Holy Communion on the first Sunday of the month. We form a circle and eat the bread and drink the wine as a community.
Solstice Service
We celebrate the summer solstice with an early service on Kew Beach in Toronto's East end. After the service, we gather in the waterfront park for a picnic lunch.
Summer Gatherings
We gather for weekly discussions on topics or books of interest.