Our People
Meet some key people in our community
(Vacant)
As per the United Church Manual, Shining Waters Regional Council has appointed Rev. Dr. Martha ter Kuile as our Pastoral Charge Advisor.
meet
Our Volunteer Pastoral Associate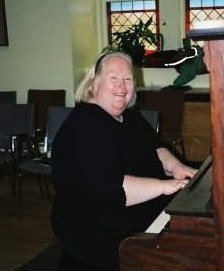 Description
Bev Lewis has been leading the choir and playing at our services for many years.
At one time, Bathurst United had a mighty and large choir. From the 1940s to the 60s, the choir stalls of our old church building would be filled to overflowing. The congregation held frequent concerts and other events mainly so that people could hear the choir.Today, our dedicated singers still perform challenging, four-part compositions. As well, the choir organizes the Christmas Carol Service.The choir rehearses from one until two o'clock Sunday afternoons after refreshments and discussion.
 "Small, but Mighty". That's how our Music Director, Bev Lewis, describes the Bathurst choir.
At our 2018 Carol Service, the choir sang a new version of the Huron Carol. Bev rewrote the lyrics to reflect our respect for Indigenous cultures and the church's commitment toward reconciliation. The United Church magazine, Broadview, marked the occasion with a feature article.
meet
Our Community of Faith Nurse
Description
Nancy Gordon has been a member of Bloor Street United Church since 1974. She grew up in Trinidad where she was born into a missionary family. 
After studying nursing at Ryerson University (now called Toronto Metropolitan University), Nancy practised oncology at Princess Margaret Hospital; general internal medicine at Toronto Western Hospital and palliative care at the Toronto Grace Hospital and the Kensington Hospice. 
meet
Our Committee Chairs